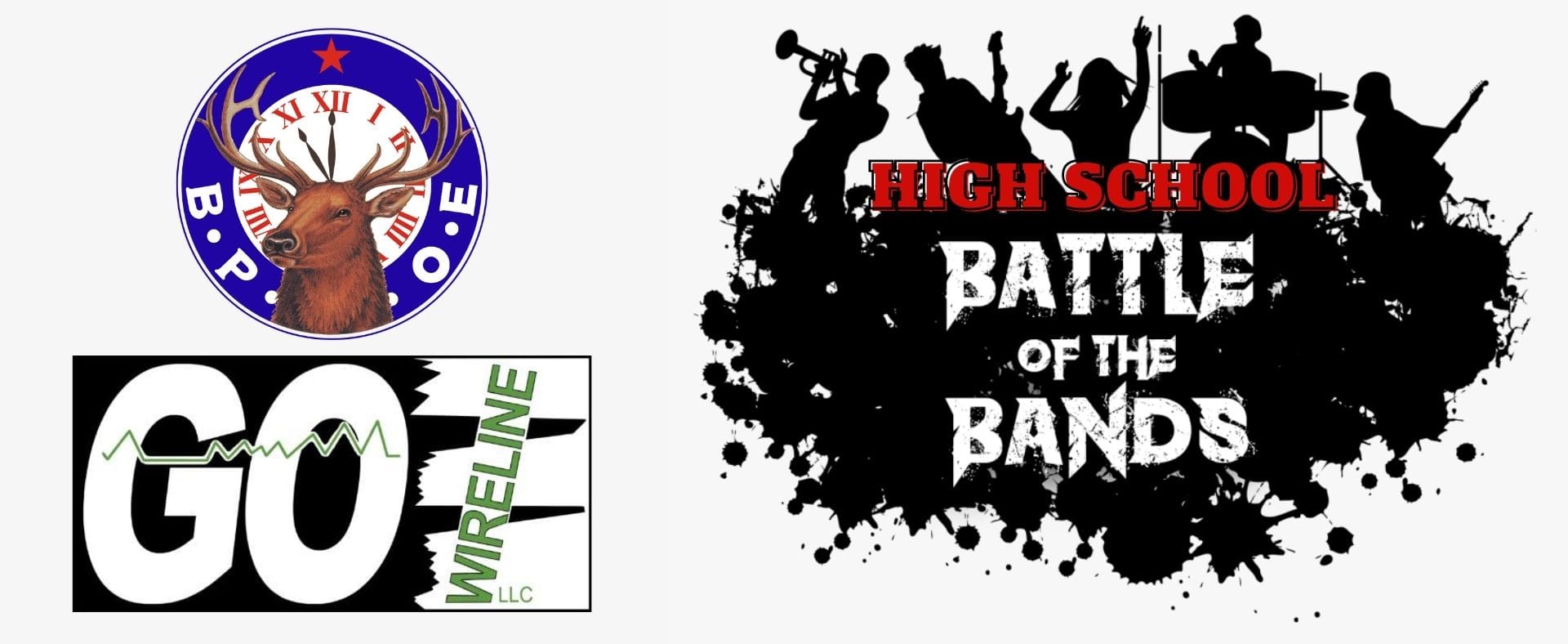 2022 MAIN STAGE at THE ELKS - HIGH SCHOOL BATTLE OF THE BANDS
The Main Stage at The Bismarck Elks in conjunction with this year's event sponsor, Go Wireline, LLC, welcome North Dakota high school students to compete in the 2022 "High School Battle of The Bands" event.
WHY PARTICIPATE?
Besides the awesomeness that is performing live music, high school contestants have the opportunity to compete for $4000 worth of college scholarships. The scholarship opportunities are broken down as follows:
Solo/Duo Category: $500 scholarship per performer
Band Category: $500 scholarship per performer up to a 4-person band.
Grand Prize Winner: $1000 scholarship to the musical act as a whole.

If you are a duo or band, the scholarship will be divided evenly between members.
Besides the scholarship dollars awarded per category, as outlined above, there will be a grand prize winner awarded a $1000 scholarship at the culmination of the event. This winner will be chosen from the winners of each category.
WHO CAN COMPETE?
This event is open to any North Dakota high school student with a 2021-2022 valid student ID card or proof of enrollment.
HOW MUCH DOES IT COST TO ENTER?
There is a $20 registration fee to hold a performer's spot. The fee is 100% refunded on the evening of the event for those that compete. For those that register and do not compete, the registration fee will not be refunded. Only one registration payment is required per performing act. This means that if a person is part of a duo or band, only one registration payment is required per group in order to reserve their spot.
WHERE AND WHEN IS THIS EVENT GOING DOWN?
SATURDAY, JUNE 18
8:30 PM (main stage doors open to the crowd at 8:00 pm)
MAIN STAGE at The Elks
900 S. Washington Street
Bismarck, ND
REGISTRATION ENTRY FEE:

The fee is $20 to hold your spot.
Only one registration fee payment is required per performing act. This means that if you are part of a duo or band, you only need to pay one registration fee for your group to reserve your spot.
This fee is 100% refunded for those that compete in the competition.
If you register and do not compete, you will not receive a refund on your entry fee.

DEADLINE:

All entries must be submitted by 11:59 pm on Thursday, June 16 using the "Registration Entry Form" button shown on this page. If you do not register, you will not be allowed to participate in the event. Once the registration deadline has passed, no additional competitors will be added.

SONG CRITERIA:

Contestants perform 3 songs.
Songs can be either original tunes or covers.
Song lyrics must be Family Friendly. Songs with any obscene subject matter or use of profanity will not be allowed and will warrant immediate disqualification.

WHO CAN ENTER?

Any North Dakota High School music act. Instrumentalists, solo/duo performances, and band performances (3-4 members) are allowed.
Proof of high school status will be documented prior to participation.

COMPETITION OVERVIEW NIGHT:

All confirmed registrants must attend "Competition Overview Night" which will be held on Friday, June 17, at 7:00 pm at the Bismarck Elks (900 S. Washington Street, Bismarck, ND).
The "Competition Overview Night" will cover a review of the rules and regulations, a recap of the judging criteria, details about the logistics for the June 18 event, and a blind draw for the order contestants will perform on June 18.
You must have your valid high school student ID card or proof of enrollment with you on registration night.

JUDGING and AUDIENCE RESPONSE:

A combination of Audience responses and Judge Scoring determines the winner(s).

AUDIENCE RESPONSE: determined by the level of applause and engagement during and after the performance.
JUDGING: Vocals - the act's vocal skills to include concepts of tone, musicality, meaning, and expression. Instrumental Talent - Ability level on all instruments featured within the act. Stage Presence - The ability to command the attention of the audience by the impressiveness of one's manner and appearance on stage.

JUDGE VOTES:

There will be up 5 judges.
Judges are pre-selected members of the local music community – in some cases from the music industry. Judge's ballots are not available for review.
In the event of a tie score, the band that receives the greater number of applause from the audience will advance.
If there is still a tie, the amount of 2nd place judge votes will determine who wins each category.
All winners, including the grand prize winner, will be read from the stage roughly 30 minutes after the final performance, or as long as it takes to tally the final results.
Judges will be instructed to ignore "genre bias" which means they will not reward a band for playing a type/style of music that the judge personally likes, and, conversely, not penalize a band simply because the music isn't agreeable with the judge's personal taste.

JUDGING CRITERIA:

Evidence of performance planning; i.e. Choreography, demonstration of the musical/movement or program dynamics, etc. Evidence of rehearsal, bands know the lyrics, bands appeared ready and prepared to play.
Talent.

If vocals are present, did the skills include concepts of tone, musicality, meaning, and expression?
Was there an ability level on all instruments featured within the act?

Did the band interact with the audience?
Did the members interact during the performance?
How were the performer's confidence and competence?
Did they look at ease while playing?
Did they appear to be able to do what they wanted to do?
How were the performer's stage presence, and did they use the stage effectively?
Was the audience engaged and appreciative?

EQUIPMENT: Equipment Provided:

Full sound system, lights, and professional sound crew.
Drums:

What's provided: Kick drum, one-rack tom, one-floor tom, 3 cymbal stands, hi-hat stand, snare stand and single bass drum pedal, throne, and all mics and mic cables. The use of the provided drum kit is mandatory if there is a drummer in the band. If you would like to add to the kit you may do so. Please notify the stage manager at check-in about your intentions.
You need to bring: Cymbals (you may want to bring an extra cymbal stand just in case), Hi-Hat Cymbal, Snare drum, Sticks, Double Bass Pedal (if required).

Other Instruments: You need to bring your own Guitars, Amps, Guitar pedals, DI Boxes, keyboards, guitar cables, and instruments you need to perform.
Bands are responsible for getting their equipment on and off the stage in a timely manner.
Band members are responsible for the security of their personal equipment.

PRIZES: $4,000 worth of scholarships.

Grand Prize Winner: $1000 scholarship to the musical act as a whole. If you are a duo or band, the scholarship will be divided evenly between members.
Solo/Duo Category: $500 scholarship per performer
Band Category: $500 scholarship per performer up to a 4-person band.

CONTACTS: Any questions or concerns should be addressed to Jennifer Lyn at: jenniferlyn@jenniferlynmusic.com